Wonderful White Bread (Gluten-Free)
Wonderful White Bread (Gluten-Free)
Published 11/25/2008
Rating:
This recipe may be prepared using a mixer and oven or in a bread machine. This loaf is light and airy, yet substantial enough to use as sandwich bread (however, if you want a denser loaf, simply add 1/4 cup dry milk powder to the dry ingredients).
The recipe boasts the addition of flax seed meal and flax seeds which contribute a large amount of dietary fiber and other beneficial nutritional properties like high omega 3. The simple addition of two tablespoons of flax seed meal to this bread also adds four grams of dietary fiber and three grams of protein. As an alternative, you can simply use 2 eggs in place of the flax seed and water mixture, and you will add the dry yeast to the dough at the final mixing step.
When using a bread machine, always be sure to add all liquid ingredients to the pan first, followed by the dry ingredients. I recommend sifting all dry ingredients (except yeast) together in a bowl first, then pouring it into the bread machine pan. If the dough seems too thick, gradually add more yogurt, one quarter cup at a time, until the dough is still thick, but able to be smoothed with a spatula. Be sure to check the bread with a spatula throughout the mixing process to ensure that all the dry ingredients have been incorporated. Smooth the top with a rubber spatula and when done mixing, sprinkle any desired toppings on top of the loaf. Select either the gluten-free bread setting on your machine, or the quickest bake setting like a light crust 1 ½ pound loaf. Remove the pan from the machine when finished baking (internal temperature should be between 205-210F).
When making with a mixer and oven, follow the specific directions outlined below.

Ingredients:
2 Tablespoons ground flax seeds or flax seed meal
½ cup very hot water
1 tsp. granulated cane sugar
1 Tablespoon rapid rise or bread machine yeast
¼ cup Earth Balance Shortening, cut into small pieces (or canola oil, if using a bread machine)
3 ¼ cups Jules Gluten FreeTM All Purpose Flour *
½ teaspoon baking soda
2 teaspoons gluten-free baking powder
Pinch of salt
2 Tablespoons honey
1 teaspoon apple cider vinegar
1 ½ cup vanilla yogurt (dairy or soy)
1 Tablespoon flax seeds
Toppings of choice (coarse sea salt, sesame seeds, flax seeds, etc.)

(* I cannot predict how this recipe will work with any other flour mixture but my own. The mix recipe may be found in media links on my website and in my book,
Nearly Normal Cooking for Gluten-Free Eating
, or pre-mixed from my website.)
Directions:
In a small bowl, add the hot water and flax seed meal and stir. Let sit for 5 minutes. Add the yeast and one teaspoon of sugar to this mixture and stir. Set aside for 5 more minutes for it to begin to bubble and grow; if the mixture does not bubble or grow, throw it out and re-mix with fresh yeast.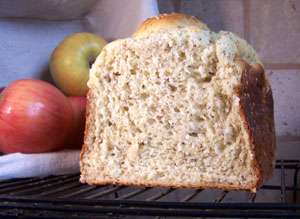 Sift remaining dry ingredients together in a large bowl. Cut in the pieces of shortening using a pastry cutter or the dough paddle on your mixer. Add the remaining liquid ingredients next, mixing well. Finally, mix in the yeast/flax seed meal mixture and stir well using the dough paddle. If the dough seems too thick to form a loaf, gradually mix in more yogurt, one quarter cup at a time, until the dough is still thick, but able to be smoothed with a spatula.

Scoop the dough into a greased bread pan (use a dark metal pan if you like a darker crust on your bread; lighter, shiny metal or glass if you like a light crust). Smooth the top, sprinkle with any toppings, then cover with a sheet of wax paper sprayed with cooking oil. Sit the covered dough for 30 minutes in a warm place like an oven warming drawer or even in your oven with the light on.
Remove the raised dough to a preheated convection oven set to 275 F or a preheated static oven set to 300 F. Cook for approximately 60 minutes, or until the crust is browning nicely and a cake tester or skewer inserted into the center of the loaf comes out clean (internal temperature should be 205-210F). Remove to a cooling rack and rotate gently from side to side every 5 minutes or so if it looks like your loaf wants to sink at all in the middle. When cooled for 15 minutes or more, remove from the loaf pan to finish cooling before slicing.
Celiac.com welcomes your comments below (registration is NOT required).

Get Email Alerts (More Info)
Article Options
Related Articles
Sweetening Without Sugar This article originally appeared in the Summer 2003 edition of Celiac.... [READ MORE]

Gluten Free Mother's Day Mother's Day is upon us once again, and what could be more special than letting your mother know how much you care by delivering up some gluten-free joy?In my opinion, few culinary delights pack as much joy as Eggs Benedict.... [READ MORE]

Jules Shepard
Atop each of Jules Shepard's free weekly recipe newsletters is her mantra: "Perfecting Gluten-Free Baking, Together." From her easy-to-read cookbook ("Nearly Normal Cooking for Gluten Free Eating") to her highly rated reference for making the transition to living gluten free easier ("The First Year: Celiac Disease and Living Gluten Free"), Jules is tireless in the kitchen, at the keyboard and in person in helping people eating gluten free do it with ease, with style and with no compromises.
 
In the kitchen, she creates recipes for beautiful, tasty gluten-free foods that most people could never tell are gluten free. As a writer, she produces a steady stream of baking tips, living advice, encouragement and insights through magazine articles, her web site (gfJules.com), newsletter, e-books and on sites like http://celiac.com and others. Jules also maintains a busy schedule of speaking at celiac and gluten-free gatherings, appearing on TV and radio shows, baking industry conventions, as well as teaching classes on the ease and freedom of baking at home.
 
Her patent-pending all-purpose flour literally has changed lives for families who thought going gluten free meant going without. Thousands read her weekly newsletter, follow her on Twitter and interact with her on FaceBook. Â 
View all articles by Jules Shepard
In Celiac.com's Forum Now:
Diagnosed at 57
Lex_, Again I am afraid Ennis_Tx is right here. Ennis_tx eats right and is eating all the right things and still has to take/supplement with Magnesium. The magnesium is a clue? We need magnesium to make energy. I like to say as chlorophyll is to photosynthesis for the pl...
Lots of people are diagnosed after 50 according to this https://www.ncbi.nlm.nih.gov/pmc/articles/PMC3227015/
Smaller meals throughout the day should help. I had the same problem but if it keeps up you may need to see the doctor again and get surgery. Anti-acids may help out too. It's been about 10 years since I had mine. Good luck.
Nobody posted anything on my profile that I'm aware of but it wouldn't let me get into it. My email got hacked though right around the same time so I just figured it was connected. I'm not exactly Y2K ready. This is the first computer I ever bought and I still have a flip phone. Maybe it's not co...