Is Buckwheat Flour Really Gluten-Free?
Is Buckwheat Flour Really Gluten-Free?
Published 10/18/2013
Rating:
Celiac.com 10/18/2013 - Buckwheat, sometimes referred to as kasha, is often billed as a "tasty alternative to wheat." That's all well and good, but is it really gluten-free, and generally considered safe to eat for those who suffer from celiac disease or a gluten sensitivity?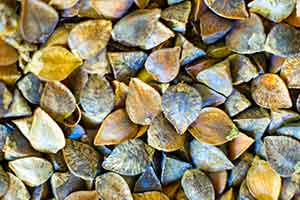 Whether or not buckwheat is tasty is a matter of opinion. However, with so much conflicting information available today, it can be hard to tell what's gluten-free and what isn't. Here's the skinny on buckwheat.
The Facts
Good news! With its non-wheat status, buckwheat is safely gluten-free. Buckwheat and wheat are, come to find out, actually from completely different botanical families. Derived from the seeds of a flowering plant, buckwheat is not considered a grain or a cereal (though it may be called a pseudo-cereal—don't let that scare you).
Buckwheat, in all of its gluten-free glory, is actually closely related to rhubarb. In addition, it is an excellent source of fiber and nutrients. In particular, buckwheat groats (the small, triangular seeds), when cooked, offer 17 grams of dietary fiber or 68% of the daily requirement for a 2,000 calorie per day diet, as well as 22 grams of protein.
Nutritionally beneficial and sometimes used in treating symptoms of type 2 diabetes and high blood pressure, buckwheat contains rutin. Rutin, a glycoside, has been known to strengthen capillary walls and improve circulation.
Like many grains, buckwheat can sometimes be cross-contaminated with wheat during processing, transportation or if it is used as a rotational crop with wheat, so it is important to find non-cross contaminated source of buckwheat—make sure the one you use is certified gluten-free.
Culinary Uses
Buckwheat groats make a healthy side dish. Also, if you grind the small seeds of the buckwheat plant, you can make buckwheat flour for use in noodles, crepes, and many other gluten-free products. Using buckwheat flour in your cooking will give a strong nut taste to your dishes. You can also contribute raw buckwheat groats to recipes for cookies, cakes, granola, crackers, or any other gluten-free, bread-like item.
If you're feeling more creative, buckwheat makes a good binding agent, and becomes very gelatinous when soaked. If you soak, rinse, and then re-dry the groats you can produce a sort of buckwheat chip that is crunchy and can act as a nice side dish.
When toasted, buckwheat becomes kasha. You can pick out kasha—vs. raw buckwheat—by the color; it's a darker reddish-brown. In addition, kasha has a strong toasted-nut scent. Conversely, raw buckwheat groats are typically light brown or green and have no aroma.
Buckwheat
So, there you have it. You can use buckwheat and kasha safely as a nutritional, gluten-free alternative to wheat, or to create fun and tasty side dishes with buckwheat groats.
If you're looking to stock your pantry with all kinds of gluten-free wheat alternatives for your side dishes or even your main dishes, you can safely go for buckwheat in addition to cornmeal, millet, amaranth, cornstarch, garbanzo beans, arrowroot, quinoa or brown rice. Eating a gluten-free diet doesn't mean you have to rely on the same old wheat alternative for every dish!
Celiac.com welcomes your comments below (registration is NOT required).

Get Email Alerts (More Info)
Article Options
Chris Bekermeier
Chris Bekermeier is Vice President, Sales & Marketing, for PacMoore, one of the leading commercial food packaging companies processing dry ingredients for the food and pharmaceutical industries. Headquartered in Hammond, Indiana, Pacmore's capabilities include blending, spray drying, re-packaging, sifting, and consumer packaging. His company's site is at: http://www.pacmoore.com/packaging
View all articles by Chris Bekermeier
In Celiac.com's Forum Now:
I'm probably the most annoying person on this forum. Lately I've been posting everyday? ok wondering a few brand options for products just need a list.... Pickles: Green olives: Banana peppers: Lunchmeat: turkey/salami/pepperoni Hard/block cheese (cheddar or colby): (was...
Hi Your tests indicates that you are positive for Celiac. I have a problem with the diagnose too. I have recently started to research about gluten intolerance and I have so many symptoms... It's like all the health issues I had all my life have an answer now. I think my mother had ...
Yeah mine was the constipation really bad, it clears up some but my constipation was partially trigger by the damage causing malabsoprtion of magnesium leading to the constipation along with other things and complications. All sore layers up into a big compounding issue, example the tiredness is ...
For me, the DH rash was what lead my Dr. to have me tested for celiac. Since I have IBS, I was thinking that was what was causing my stomach issues- and I was so bloated that I looked pregnant. It is still my DH that lets me know, I have somehow encountered gluten/cross contamination. My skin ...
Hi, this is my first post. I am wondering how to proceed. I tried going off gluten because I was diagnosed with Morphea and I read it might help. To my surprise, it cleared up a bunch of other symptoms big time. Then I read about celiac and found out I should not have stopped eating gluten if I w...